Tips on How to Sell Gold in NYC
Selling gold today is a very easy way to turn your gold into cold hard cash, but if you've never done it before than it might be intimidating.  We've put together this simple page to help give you some great tips for selling gold.  We want to make sure the entire process is as simple and painless for you as possible, and that you can get the highest payout for the gold you have.   We have years of experience as gold buyers in New York, and we want to share the information we've gathered over this time.
What to Watch for When You Sell Gold in NYC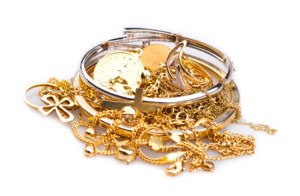 With new companies opening up almost every day in the 'we buy gold' field you might be nervous about who to trust.  This is a fair concern, and if you're not careful you can run into problems.  If, for example, you want to use one of the online or mail in types of companies you'll have to put your gold in an envelope to send it to them.  This, of course, comes with some obvious risks since once you drop the envelope in the mail box you don't know what's happening to it until you get the notification that the company received it.
If you want to avoid those potential problems you'll want to find gold buyers in NY that can work with you face to face.  When doing this you'll want to make sure to find a place that has enough experience in this field to be able to answer all your questions, give you a fair appraisal, and pay you for your gold as quickly as possible.  Some of the newer companies are still trying to learn how to get by in this field, and the customer often suffers from their inexperience.
What You Should Know About How to Sell Gold in NYC
Just like any type of selling you might do, it is best if you learn a few things about the gold you have before even stepping foot into a shop to sell it.  First, try to learn how pure the gold you have is.  24 Karat gold is 100% pure, but most jewelry isn't that pure and even some gold coins aren't either.  You can often find this information on any documentation that you got when you purchased the item.  If you got it from a friend or from a family member you might need to get it tested.
You'll also want to try to find out if your gold has any additional value besides just the price of the gold.  Some jewelry, for example, will have additional value based on its style and the popularity of that specific type of jewelry.  Gold coins often work in the same way.  If you've gotten a coin from the Dutch trading company, it would be far more valuable than a coin that was minted just a few years ago.  Any information you can find about the gold you want to sell will be very helpful in determining the value.