Sell Engagement Ring NYC
One of the hardest things you may ever have to do is to sell an engagement ring in NYC. This isn't because there aren't places that will buy it from you but because of the emotions attached to the ring. There may be a lot of memories from the ring, making it hard for you to part with it. This is why it's critical for you to take the ring to someone who is going to be gentle with your feelings and make it easier for you to part with the ring. At Sell Diamonds NYC, we put you at ease from the moment you walk through the door.
Sell an Engagement Ring in NYC to a Reputable Dealer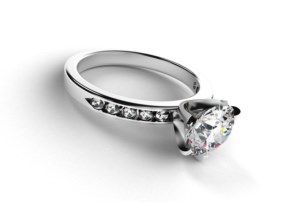 If you are no longer engaged or married and you are in possession of an engagement ring, you may be able to sell it at Sell Diamonds NYC and walk away with cash. This may be the easiest way for you to sell an engagement ring in NYC and walk away from any painful memories that the ring holds for you. We understand that it might not be easy for you to sell the ring, so we will work with you however we can.
We will not only handle the engagement ring with care, but we will also provide an appraisal. This allows you to learn the value of your engagement ring prior to selling it. Any reputable dealer should take the time to tell you all about the ring. This includes giving you all of the details about the ring in terms of the clarity and the color and everything else. If a dealer simply provides you with the price that they will pay for it, you need to be very wary.
We try to simplify the process when you wish to sell an engagement ring in NYC because we know that you don't want to extend the process any more than is absolutely necessary. You likely want to get in, unload the ring, and collect your cash. We have expert jewelers on premises at all times that will provide you with the quick appraisal that you need to learn about what we will pay for the engagement ring.
Sell an Engagement Ring in NYC for Good Money
The average engagement ring can add up to a significant chunk of money. The old saying is that an engagement ring should be worth two times the monthly salary of the person buying it. If the person who bought you the ring actually followed this, your ring may be worth a lot more than you even think it is.
You can sell an engagement ring in NYC for good money. How much money is very dependent upon the ring itself. You are welcome to bring the ring into our location on West 47th Street so that we can have a look at the ring in person. If you know all of the details about the ring, you are even able to make a phone call to learn about what will be able to pay you for it, assuming that you have the facts correct.
When you want to sell an engagement ring in NYC, it's never that easy because of the emotions that surround getting rid of such an important ite,. Our goal is to simplify the process as much as possible and provide you with a good amount of money in cash so that you can walk away at least a little bit happier.